WebDav is a collaborative file management protocol being widely used in a lot of cloud storage and content management systems, such as MobileMe iDisk, SharePoint, Alfresco, etc. It extends the HTTP protocol to make the Web a readable and writable medium, and it has much better firewall/router compatibility than the traditional FTP protocols. CrossFTP Pro is an excellent WebDav client with excellent reliability and performance, and it offers a lot of value-added services than the operating system's bulid-in clients.
In the following we will show how to connect to the WebDav site in CrossFTP PRO, and some unique features available in the CrossFTP Pro. For the
MobileMe iDisk's access, please check this page.
To get a WebDav account:
Normally your WebDav service provider will give you the account information.

If you have not got a WebDav account yet, you may register a traditional host provider (such as bluehost), or you can create a WebDav server on your own machine (such as Apache HTTP server with WebDav mod).
After successful registration/creation of your WebDav account, you will get your WebDav server's host, port, user name, and password.
To connect to a WebDav account:
Create a new site in CrossFTP, and choose the Protocol field as WebDav (default port is 80) or WebDav/HTTPS (default port is 443). After that, fill in the Host filed with your server's host, and Port field with your server's port.
Enter your User Name field with user name, and Password field with password information, and press Connect to connect to the FTP Server.
Setup your site's web URL (optional). If you want to preview your web pages, or copy the page's URL address, you can fill in the Remote Path field with your site page files' root path on your server (e.g., /public_html), and the Web URL field with your site's root URL (e.g., http://www.crossftp.com/). After that, you will be able to copy the page's URL, or preview the pages in your favorite web browser.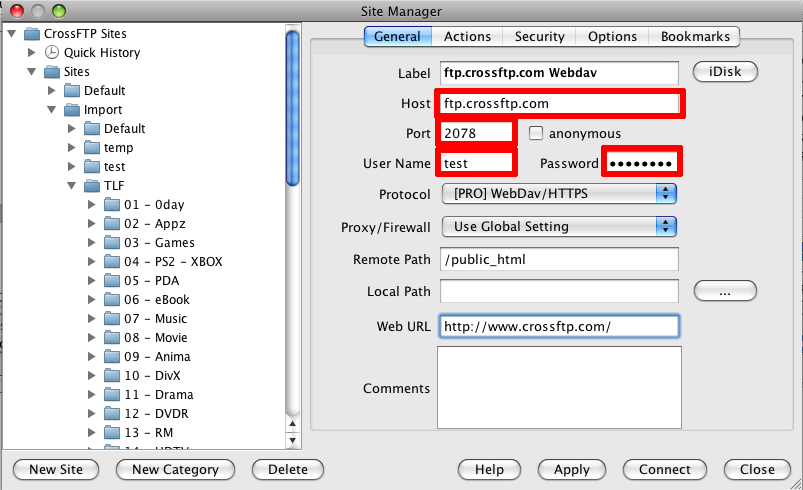 WebDav's Value-Added Services available in CrossFTP Pro
Lock and Unlock - Used to put or remove a lock on the resource. WebDav server normally supports both shared and exclusive locks. You can choose the Lock, Unlock, or Show Locks in the CrossFTP Pro file panel's context menu.
Schedule the Queued Item - Batch transfer your data in the queue, and schedule the transfer task. You can choose the schedule option in the Queue's context menu -> Advanced -> Schedule.

Synchronization - Synchronize the folders for your WebDav servers. You can choose it at Tools -> Synchronize Directories...
Remote Edit - Edit your remote WebDav files directly.
and much more, such as WebDav-to-WebDav copy, move to, rename, certification management, and more..
Conclusion
With the reliability and performance provided in
CrossFTP Pro
, it is recognized as the top WebDav client and iDisk tool available on the market. In addition, CrossFTP Pro also supports the SFTP, FXP, and
Amazon S3
protocols, and it works well on Windows, Mac, and Linux. We hope you will find our post useful and enjoy the easiness of CrossFTP Pro. As always we appreciate your feedback as it helps to make the product better!
--
CrossFTP
is a
FTP
,
SFTP
,
FXP
,
WebDav
,
Amazon S3
,
Amazon Glacier
and
Google Cloud Storage
client for Windows, Mac, and Linux.
CrossFTP Team
http://www.crossftp.com/